John Barclay, courtesy of The Telegraph, 4 May 2018, where the title runs "How John Arlott and EW Swanton fought to keep cricket honourable"
John Arlott and E W Swanton, with their instantly recognisable voices and incisive prose, defined English cricket commentary in the second half of the 20th century. Their place in cricketing history has already been cemented by comprehensive biographies, which makes Stephen Fay and David Kynaston's decision to embark on this joint study seem, initially, an odd one. The result, however, is one of the best pieces of cricket writing of recent years, a book that is as much about politics and social change as it is about the men themselves. It is the tale of an age in which British identity – and the sport that defined it – changed for good.
John Arlott commentating in the late Forties CREDIT: COURTESY OF BOUNDARY BOOKS2 May 2018

At first glance, Arlott and Swanton seem to be disparate characters, hailing from opposite ends of the social scale. A lifelong Conservative, Swanton was born in 1907, the son of a stockbroker. At the age of 17, he left boarding school to start out as a journalist, rising through the ranks to become The Daily Telegraph's cricket correspondent – a post he held for nearly 30 years.
A firm defender of the class system, Swanton championed amateur cricketers from Oxbridge and the public schools. Always quick off the mark to engage a Duke or Duchess in conversation if one should hove into view, he was not, as Robert Runcie, the former Archbishop of Canterbury, reminded the congregation at his funeral, "a man plagued by self-doubt".
Arlott, seven years Swanton's junior, had more modest beginnings. His father was a council employee, his mother a secretary of the local women's Liberal Association. Steeped in Liberal politics throughout his life, he stood twice for Parliament before becoming chief cricket correspondent for The Guardian and the voice of the BBC's commentary.
He championed the cause of the underdog, the worker and the professional cricketer – those who could not afford to spend their summers playing cricket for free, and weren't even allowed to share a dressing room with their amateur teammates. By helping to establish the Professional Cricketers' Association – a trade union of sorts – he was instrumental in the slow breakdown of the class division between the "gentlemen" and the "players" that still marked cricket when he began to write about it in the Forties.
As two of the leading cricket journalists of their day, Swanton and Arlott came to know each other well, but a friendship never grew. Yet despite their outward differences – Swanton inclining to pomposity, Arlott more reflective – they shared a deeper set of values. In particular, they were united in rejecting public opinion on controversial issues of race.
They condemned Enoch Powell's "Rivers of Blood" speech in 1968 with equal ferocity, with Swanton calling his fellow Conservative's pronouncements "bloodthirsty and hateful, lacking a single compassionate phrase towards fellow members of the Commonwealth".
Later that year, when South Africa's apartheid government refused to permit a British cricketer of mixed race to tour their country – the infamous "D'Oliveira affair" – both men were incensed by the England selectors' decision to drop Basil D'Oliveira. Arlott announced he would not commentate on a single match of South Africa's planned 1970 England tour.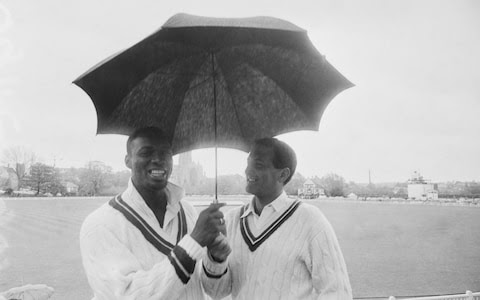 Within 10 years, they came together again to oppose the bullying Kerry Packer's World Series Cricket. Packer had wanted to secure television rights for his media empire, but the Australian Board of Control for Cricket wouldn't play ball. Taking his lead from the Henry VIII school of behaviour, Packer established an independent series of matches, to be played at night, in coloured clothing and with a brutal ferocity that belied the sport's traditional chivalry.
Arlott and Swanton both realised that cricket had to become more commercial if it was to survive, but neither could abide this assault upon its soul and the essence of fair play. (One can only imagine what they would have thought about the use of red and yellow cards in cricket today.)
Both men were gripped by a romanticism, respect for tradition and love for a game played in the right spirit. Neither will be forgotten by those who grew up with them, and their turns of phrase have outlived them. Cricket lovers will remember Arlott's moving commentary on Don Bradman's final test innings at the Oval in 1948, and it is impossible to suppress a smile at his announcement of a "freaker" at Lord's in 1975.
Kynaston's and Fay's book is a wonderful read, itself the product of a seamless partnership that works without muddle, contradiction or repetition. It is both a fitting biography of the two men and a social history, perceptive, well-researched and sprinkled with nostalgia.
Although their appraisal is generously balanced, the authors declare at the start that they are both Arlott men. As a young cricketer playing for Sussex in the Seventies and Eighties, I came across both, but it was Swanton I knew better. I went to a public school and played for his Arabs Cricket Club, both of which, I suppose, make me a natural "Swanton man". But for me, it was Arlott who provided the warmth and humour. As this book recounts, he was sentimental. His large eyes often welled up in tears, and he always wore a black tie in memory of his son, James, who had been killed in a car crash in 1965.
I commentated with Arlott at Hove near the end of my playing career, both of us spent forces by that stage. Breathless and laboured, he opened his bag at the start of the day's play and extracted a bottle of claret. "Would you like a drop?" he said. "If it's all the same to you," I replied, "I think I'll miss this round – sorry to be dull." He looked at me with a smile and said, in that inimitable Hampshire burr: "Life would be dull if everyone were interesting."
*** ****
John Barclay is a former captain of Sussex County Cricket Club and President of MCC
Click here to 

Reply

 or 

Forward
17.56 GB
 (17%) of 
100 GB
 used